Regular price
Sale price
€225 EUR
Unit price
per
Sale
Sold out
Size Guide
Shipping
CLOTHING SIZING CHART
Some items may be O/S (one size only), S/M or M/L. Please refer to the specific product page for details.
| | | | | | |
| --- | --- | --- | --- | --- | --- |
| | XS | S | M | L | XL |
| France | 36 | 38 | 40 | 42 | 44 |
| UK | 6 | 8 | 10 | 12 | 14 |
| US | 4 | 6 | 8 | 10 | 12 |
| Australia | 8 | 10 | 12 | 16 | 14 |
| Japan | 7 | 9 | 11 | 13 | 15 |
*Measurements are standard and are based on a general sizing chart. If you are unsure of fit, please do not hesitate to contact us at hello@lu-ciee.com.
We offer FREE EXPRESS SHIPPING on all orders.
We endeavour to pick, pack and ship your purchases within 24-72 hours of order placement.
All international orders are shipped with FedEx or similar. Deliveries take 7-10 days from dispatch. All customers will receive a tracking number once their order has left our warehouse.
l u • c i e e does not operate over the weekend. As such, orders placed after Close of Business Friday throughout the weekend will not be addressed until the following Monday morning.
A full look in a single piece, our jumpsuit in luxurious pure linen is strong, yet feminine. Wear it handsomely simple for poise or accessorize for a touch of glamour.
100% Linen
Short sleeves with a button closure
Relaxed wide leg

Center front line of racin buttons
Pockets at side
4cm wide elastic waistband 
Unlined
In Natural, Natural Brown and Black
Color: Natural
Material: 100% Linen
Care instructions: Machine wash at max. 30ºC/86ºF with short spin cycle. Do not tumble dry. 

Chantal wears size S. 
Full length

Body length (shoulder to waist)

Bust 
Hip
Sleeve


S
155

46.5

104
100
29



M

L

155


155

48.5


50.5


108

112

102

106

30


31


 
View full details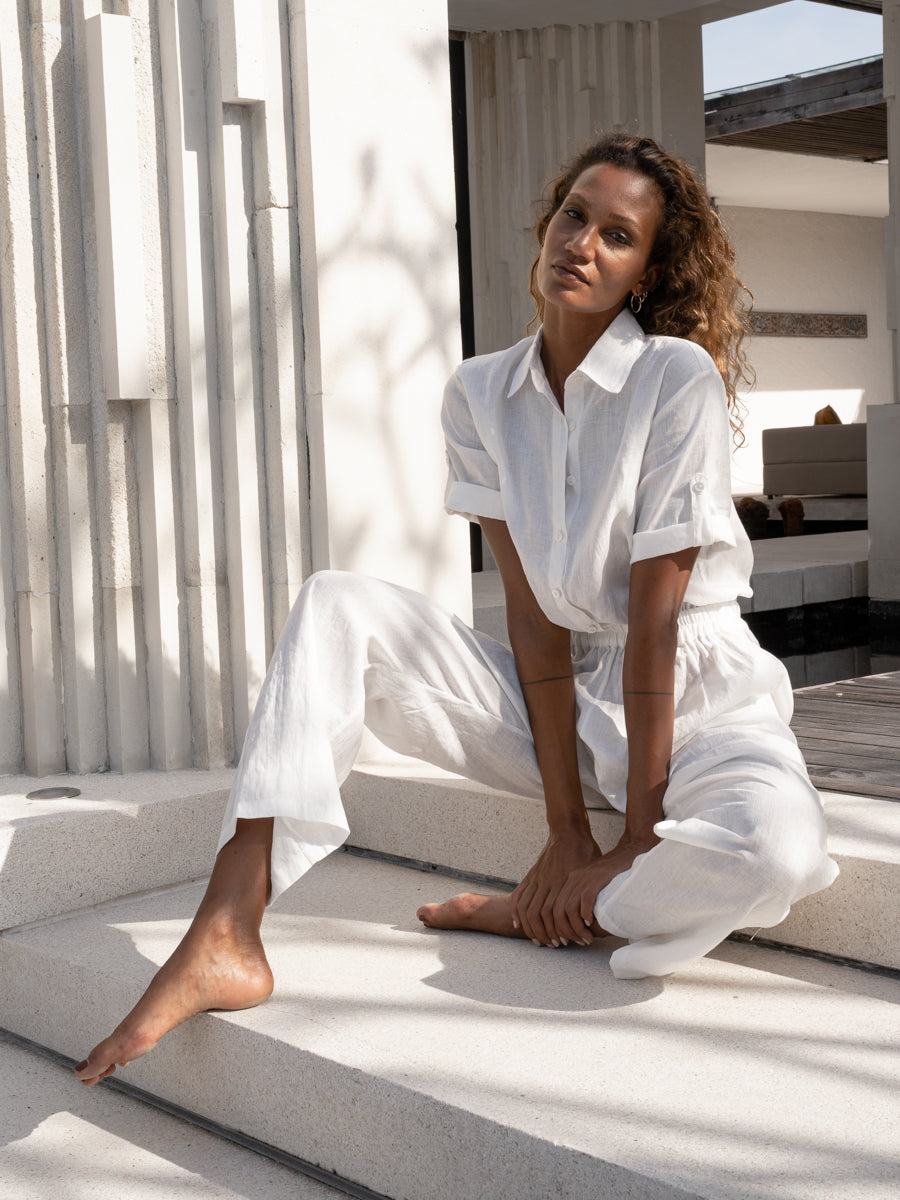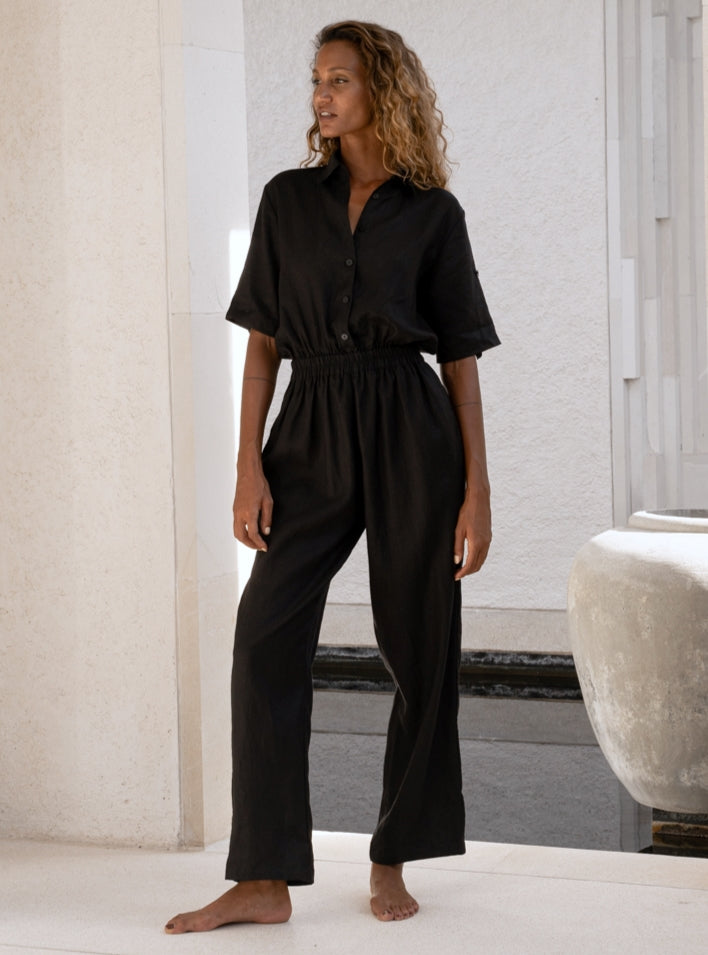 OUR CUSTOMERS
Please install these apps. If any apps are not useful then I deleting it after checking.
- Nicola, UK
Your white linen vest has arrived and it is beautiful. I will wear it with joy! I also love my white shirt and also my sister who is a very stylish architect, adored your white shirt which I gave to her as a gift recently.
- Best regards, Lynda
(01 Gesine Linen Vest)
Thank you so much! I love my blouse, it is such good quality and feels great underneath I'll let you know about the pants! Looking forward.
- Regards, Denisa
( Eloise Ramie Shirt)
Just received my order, the white Eloise shirt. What a beautiful garment! So stylish, so well made and so perfect. I know already that this will be one of my favourites! Thank you!
- Regards, Pimmy
(Eloise Ramie Shirt in White)
My package arrived today. I am going tomorrow for holidays in Greece. Very happy with my black shirt. It's perfect. Thank you. I love it.
- Mirella 
(Eloise Ramie Shirt in Black)
The jumpsuit arrived today and it fits just as expected, loose and holding volume and shape on its own due to the linen fabric. Loving it, thank you Lucie.
- Barbara
(Mija Jumpsuit)
I got my beautiful Valerie Shirt! Thank you so much! It's so lovely made! All the details… the fabric…. Everything is so special…. Thank you! And have a wonderful day!
- Betty☀️🍓
(Valerie Ramie Shirt in White)
ust to say I received my shirt today I LOVE it so gorgeous thank you so much will be ordering more things!
- Penny, UK
(Valerie Ramie Shirt)
Dear Lucie, just a word to let you know that I receive the beautiful suit today! I am delighted! It suits me perfectly! I love what you do and I will definitely order again!
- Dominique, France
(Linen Suit in Natural Brown)
Thank you very much, the polo shirt has arrived. Fits perfectly, very nice!
- Jolanta
(Gael Knit Shirt ) 
Just to let you know that I have received my order (a day early) and am delighted. It fits perfectly, especially the cuff, which usually ends up being a tight fit, and the quality is superb. I will definitely be ordering from you again and the bag that it arrived in is in my recycling bin. Once again, many thanks. With the kindest of regards to you and your team.
-  Mary, UK
(Daphne Blouse in Ecru)
Absolutely beautiful! So feminine! Great quality and cut. Would fit all shapes and sizes and still look beautiful. The company also has a wonderful philosophy. Speedy delivery with a personalised note - how often do you get that in today's world? So pleased with my purchase.
- Ruth, UK
Today I received the package, The dress fits perfectly! You were right, size M would have been a little bit too big for me. I really appreciate your support, the care and the attention that you have shown towards me. Thank you so much and keep going :)).
- Valentina, Switzerland
(Sandy Wrap Dress)
Dear Lucie, I just wanted to tell you that my husband gave me your cardigan as a present for Christmas and I am so happy. I don't have a white sweater or cardigan in my wardrobe, and I am working on a capsule wardrobe so your item(s) fit perfectly. Lots of love to you and all the best for the new year!
- Lara, Germany
(Sade Cardigan)
Easing myself gently into the Autumnal vibes with black but keeping it summer. This dress has been one of my best buys this year. Cool enough to wear during the hottest of days but dressy enough to not look like a "beach" dress. Lined so not see through but all natural fabrics.
- ~ 😘
(Amaya Gathered Dress)
Hi, I received my Daphne blouse last week together with a lovely note and I just wanted to thank you. Delivery was super quick, and the blouse is absolutely gorgeous-thank you! Love your clothes and ethos.
- Catrin, UK
(Daphne Blouse in Ecru)
I received my order and I absolutely love the stuff!! Thanks also for the personalized note. I operate an online store for kids interiors and essentials here in Malta so I appreciate these small but meaningful touches :-) Thanks again and regards.
- Doran, Malta
(Daphne Blouse in Ecru)
Shocking, the linen Adreea Dress is here already! 6 days later. Thanks for the effort, the dress is just perfect!
- Elana, Netherlands
(Andreea Linen Dress)
I already love the Luna Blouse, it's safe to say it's my new favourite one. Thanks very much and be assured that I will continue to shop your lovely online store.
- Selina, Switzerland
(Luna Blouse)
Today I received the package, The dress fits perfectly! You were right, an M size would have been a little bit too big for me. I really appreciate your support, teh care and the attention that you have sown towards me. Thank you so much and keep going :)).
- Best regards, Valentina, Switzerland
(Sandy Wrap Dress)
I received the order, and I love it, I love them both. If you have the white one back in stock, I would love to order it too! They are beautiful, bravo!
- Manon, Manon
(Arya in Black, Daphne in Ecru)
Thank you so much for sending me a personal message. Your shirt arrived yesterday, and I am wearing it already :).
- Kathleen, Switzerland
(Arya Shirt)
Thank you, love my new Ava shirt.
- Nienke, Netherlands
(Ava Bamboo)
I just received the Daphne Blouse, you make SUCH beautiful things of such quality. I love them, and thank you for the lovely note and packaging.
- Sarah, UK
(Daphne in Black)
I have got my dress and blouse, they are so comfy to wear and fit so well. I fell in love immediately.
- Yuting, Germany
(Amphitrite, Daphne)
Just wanted to let you know that my Daphne Blouse arrived with DHL today. It's so beautiful, and lovely made. You certainly have a great product & will recommend you to my friends. Best of luck with your business.
- Yvonne, UK
(Daphne Blouse) 
Thank you for the two lovely dresses, I love them, and I was thinking before to order more items, so I did today.
- Love, Mireille, Netherlands
(Blanche, Amphitrite, Luna SET, Amazonia Jumpsuit)
I am so appreciative that you took the time to listen to my concern, and rectify the problem immediately. It speaks volumes of how much you believe in your product, your customers and the ethics on which your company is built on. Definitely a European approach.
- warmly, Lydia, USA
(Sheer Shorts)
Thank you for being so empathetic, I loved the energy in the reason why your brand dixists and it continues to show by interacting with you. I am looking forward to receiving the dress. I wish to introduce as many women as possible to yoru softness.
- Sephora
I love it! Just booked a weekend trip to the Costa Brava so I can't wait to wear the Sukee Dress there! Thank you for making great quality clothing. I will definitely purchase more.
- Elisa, France
(Sukee Wrap Dress)
I love every collection piece. But for me the content behind it convinced me even more. As i feel too that we are all looking for longer lasting pieces, designed sophisticated and well crafter. With an environmental aspect.
- Edda (Germany) -
(Linen Blazers, Daphne Blouses)
I really love your brand! The Blanche Dress is amazing, I love wearing it. I just ordered the Aray Shirt in Ecru :)
- love, Flo, Netherlands 
It's nice for a change to have a human being to answer your question and not a machine that does it, I find a very beautiful and kind woman that makes this first experience shopping as the best shopping experience I ever had.
Hi, my beautiful dress arrived today. It's gorgeous. Thank you so much. (about Jules)
- Lisa, UK
Dear Luciee, Today the dress that is made of my wildest dreams arrived on my doormat. The Andreea linen dress is a true work of art, the cut, the quality of the fabric, it's amazing.
- Sunny greetings Isolde
(about Andreea)
Dear Lucie, I have received my dresses and Wow wow wow!!! I am in love! They are all absolutely gorgeous and fit perfectly. Thank you so much!
- Anna-Carin
(Andreea, Dhalia, Desdemona, Blanche)
Hello Lucie I have just received my items They are fabulous! I think it will be perfect for my trip in Greek islands! Thank you very much Warm regards
- Fabienne
(about Daphne / Amphitrite)
As with my purchase of the Daphne blouse in black, I am absolutely delighted with my purchase. I highly recommend this company to everyone